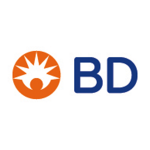 BD is a medical technology company that serves healthcare institutions, life science, researchers, clinical laboratories, industry and the general public. BD manufactures and sells a broad range of medical supplies, devices, laboratory equipment and diagnostic products.
OUR PURPOSE: Advancing the world of health
OUR FOCUS:
• ENABLING safer, simpler and more effective drug delivery
• IMPROVING outcomes through more accurate, timely and efficient diagnostics
• PROVIDING tools and technologies to the research community that facilitate the understanding of the cell, cellular diagnostics and cell therapy
• ENHANCING disease management in diabetes, women's health and cancer, and infection control
• ADVANCING clinical, laboratory and research practices in emerging markets
BD FRANCE
11 rue Aristide Bergès
ZI des Iles - BP4
38 801 Le Pont de Claix - FRANCE
Date of creation : 1950
Number of employees : 1720
Director
Stéphane BOUCHARD
+33 (0)4 76 68 33 63
Contact
Stéphanie COMIOTTO
+33 (0)4 76 68 94 33
By clicking on "Subscribe", You agree to receive the MEDICALPS newsletter and offers every month.
You can easily unsubscribe at any time via the unsubscribe link in each of our emails.
MEDICALPS
5, avenue du Grand Sablon
38700 La Tronche
France
Tel. +33 (0)4 76 54 95 63