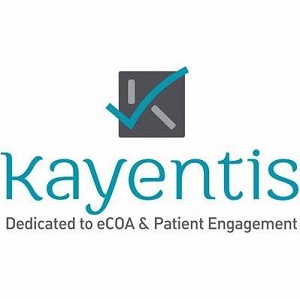 Kayentis is a global provider of electronic Clinical Outcome Assessment (eCOA) solutions for patient data collection in clinical trials.
Created in 2003, Kayentis has specialized in eCOA solutions since 2009, developing a full range of services and extending its solutions portfolio to support pharmaceutical companies, biotechnology companies and CROs.
Today, with experience of more than 150 clinical trials in 75+ countries (6,500 sites and 50,000 patients) and in a broad range of therapeutic areas, Kayentis adds value to data quality and clinical trial efficiency with innovative and intuitive solutions.
KAYENTIS
19 bis chemin du Vieux Chêne
38240 Meylan - FRANCE
Date of creation : 2003
Number of employees : 89
CEO
Guillaume JUGE
+33 (0)4 76 00 54 20
Contact
Marine BALDET
+33 (0)6 19 38 09 98
By clicking on "Subscribe", You agree to receive the MEDICALPS newsletter and offers every month.
You can easily unsubscribe at any time via the unsubscribe link in each of our emails.
MEDICALPS
5, avenue du Grand Sablon
38700 La Tronche
France
Tel. +33 (0)4 76 54 95 63