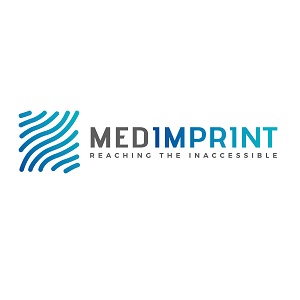 A new concept
MEDIMPRINT develops innovative, non-lesion medical devices, for clinical research in brain tumors and neurodegenerative diseases. Based on a new concept, "the brain tissue imprint", MEDIMPRINT's products are the new generation of companion medical devices for personalized and targeted therapies. The non-lesion feature of this concept allows an exclusive in vivo access to
Tumor heterogeneity
Peritumor regions
Neurodegenerative regions for poly-omic molecular analyses.
A new material
MEDIMPRINT's technology breakthrough rests on the integration of functionalized silicon chips to surgical stylets for atraumatic sampling. Through an original « hide and display» principle, the brief and specific interaction of the silicon chip with brain tissue enables a simple apposition contact and the collection of spatially-oriented imprints. R&D department has also developed appropriate and specific on-silicon molecular analytical approaches.
A clinical validation
In 2015, the safety of our first product range, GlioPrint, has been validated in a phase-0 clinical trial. In 2016 a multicentric phase-I clinical trial that plans to include 150 patients with glioblastoma (grade-IV brain tumors) has been initiated in close collaboration with four hospital centers: University Hospital of Grenoble, University Hospital of Angers, St Anne Hospital in Paris and University Hospital of Creteil. Tumor molecular heterogeneity and peritumor molecular content will be addressed in this clinical trial to confirm existing, or to highlight new therapeutic targets.
After Glio should come StimoPrint
In 2017, MEDIMPRINT should present through a phase-0 clinical trial its second product range, StimoPrint, a medical device for brain tissue imprint in Parkinson's disease. StimoPrint should offer the unique opportunity to explore molecular content of pathological brain regions in living patients; opening the way to new paradigms in neurodegenerative disease-related research.
Engineered with forward-looking, research-concerned neurosurgeons, neurologists and scientists, Medimprint's products are perfectly compatible with current surgical procedures such as stereotactic brain biopsy, tumor resection or deep brain stimulation surgery.
About MEDIMPRINT
MEDIMPRINT's venture has started in 2015 with ILAB First Prize in "Health" category and has continued with its selection for the first stage of "Concours Mondial de l'Innovation".
MEDIMPRINT® is a Startup from Clintec Lab and is the result of a close and efficient collaboration between CEA, INSERM, Grenoble University and Grenoble University Hospital.
MEDIMPRINT's Founders
Pr François Berger: Advisory Board
Dr A. Bouamrani: Advisory Board
Mr B. Turluche: President
Dr A. Zaccaria: CEO
MEDIMPRINT
Bât . BIOPOLIS
5 avenue du Grand Sablon
38700 LA TRONCHE - FRANCE

Date of creation : 2016
Number of employees : 5
CEO
Affif ZACCARIA
+33 (0)4 76 54 95 28
Contact
+33 (0)4 76 54 95 28
By clicking on "Subscribe", You agree to receive the MEDICALPS newsletter and offers every month.
You can easily unsubscribe at any time via the unsubscribe link in each of our emails.
MEDICALPS
5, avenue du Grand Sablon
38700 La Tronche
France
Tel. +33 (0)4 76 54 95 63