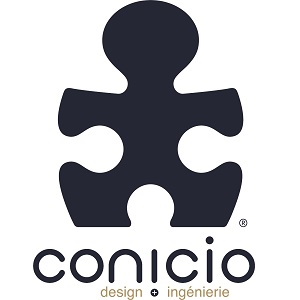 CONICIO is an industrial design agency offering an integrated design and engineering service for the creation and development of innovative interfaces and products.
This approach enables us to guarantee our clients that their projects will be transformed into products that are aesthetic, operational and industrially manufacturable.
Driven by an enthusiastic team of creators – designers, engineers and technicians – the agency can even support the different players in innovation to speed up the development of new products and increase the performance of the company's in-house teams.
Thanks to its skills in product design, R&D and mechanical and materials engineering, CONICIO has managed to bring value to professional equipment and consumer goods in various activity sectors and for different types of companies.
CONICIO
PAE de la Filière
30 route des Futaies
74370 Villaz - FRANCE
Date of creation : 2011
Number of employees : 4
Director
Vincent SCHMITT
+33 (0)4 82 53 06 23
Contact
Subscribe to receive the newsletter
By clicking on "Subscribe", You agree to receive the MEDICALPS newsletter and offers every month.
You can easily unsubscribe at any time via the unsubscribe link in each of our emails.
MEDICALPS
5, avenue du Grand Sablon
38700 La Tronche
France
Tel. +33 (0)4 76 54 95 63