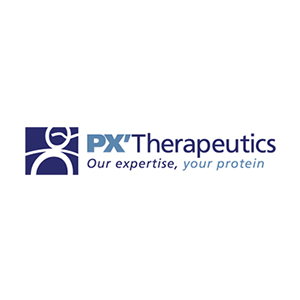 Implantée à Grenoble et à Lyon, PX'THERAPEUTICS offre des services de développement et de production de biothérapeutiques intégrées et de vaccins recombinants.
PX'THERAPEUTICS is a French Contract Development and Manufacturing Organisation offering services dedicated to the development and bioproduction of recombinant proteins, including monoclonal antibodies.
PX'THERAPEUTICS focuses mainly, but not solely, on therapeutic proteins: we also address other applications in the field of in-vivo and in-vitro diagnostics, industrial enzymes, ancillary products, etc.
We can be involved in the earliest stages of your project, from the design of your drug candidate and its expression system, to the development of industrial processes and manufacturing in compliance with Good Manufacturing Practice.
PROMISE Advanced Proteomics
7 parvis Louis Néel
MINATEC - BHT 52 A - CS 20050
38040 Grenoble Cedex 9 - FRANCE
Date of creation : 2010
Number of employees : 35
http://www.px-therapeutics.com/
Contact
+33 (0)4 38 02 36 50
By clicking on "Subscribe", You agree to receive the MEDICALPS newsletter and offers every month.
You can easily unsubscribe at any time via the unsubscribe link in each of our emails.
MEDICALPS
5, avenue du Grand Sablon
38700 La Tronche
France
Tel. +33 (0)4 76 54 95 63