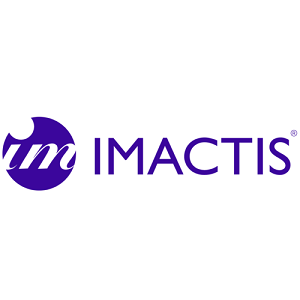 IMACTIS is specialized in computer assisted interventional radiology.
The IMACTIS CT-NAVIGATION system has been developed in France in collaboration with the University hospital of Grenoble. The system aims to assist interventional radiologists during CT-guided percutaneous procedures: tumor ablations, biopsies, drainages, vertebroplasties, infiltrations, osteosynthesis…
The IMACTIS navigation system dynamically displays the anticipated needle trajectory in 2D reconstructed slices and allows:
Simplified guidance for out-of-plane trajectories, deep targets and multiple needle procedures
Increased accuracy (+50%)
Anatomic exploring and 3D planning directly in the CT room (no use of the CT-scan console)
Fewer intermediate controls (-33%**)
Reduced intervention time (-28%**)
Today, nine systems are installed in French university hospitals and cancers institutes. IMACTIS is now starting to expand in Europe and has already installed one system in Denmark and one in the Netherlands. The IMACTIS system can be sold directly to the healthcare facility or can be sold by CT manufacturers in packaged offers with a CT-scan.
*Source: Computer assisted electromagnetic navigation improves accuracy in CT-guided interventions: a prospective randomized clinical trial – Radiology department, Grenoble Hospital, France –ClinicalTrials.gov Identifier: NCT00828893   
**Source: Mid-term results of the prospective, comparative and randomized clinical trial: PHRC CT-NAV II. 9 French hospitals – 450 patients. ClinicalTrials.gov Identifier: NCT01896219    
IMACTIS
20 rue du tour de l'eau
38400 Saint Martin d'Hères - FRANCE
Date of creation : 2009
Number of employees : 20
Contact
Lionel CARRAT
+33 (0)4 58 00 55 80
Subscribe to receive the newsletter
By clicking on "Subscribe", You agree to receive the MEDICALPS newsletter and offers every month.
You can easily unsubscribe at any time via the unsubscribe link in each of our emails.
MEDICALPS
5, avenue du Grand Sablon
38700 La Tronche
France
Tel. +33 (0)4 76 54 95 63