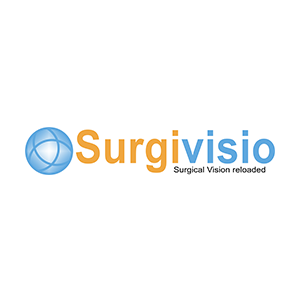 Founded by experienced business managers and engineers, and supported by a group of highly renowned surgeons, SURGIVISIO provides an innovative solution for 3D intra-operative imaging and integrated surgical navigation.
SURGIVISIO has designed and produced a seamless system integrating a proprietary interventional 2D/3D 5-axis motorized x-ray imaging device and real-time navigation with multiple software Apps and instruments. The system enables practitioners to perform minimally-invasive surgery in a patient's 3D image without resorting to additional x-ray images during the operation. The SURGIVISIO system also offers unrivalled accuracy and ease of use.
SURGIVISIO offers unique solutions for minimally-invasive surgery, which brings a major contribution to the unstoppable development of outpatient surgery. SURGIVISIO empowers the surgeon with innovative and efficient tools, reducing surgical time and x-ray exposure, and increasing safety and accuracy of both simple and complex interventions.
SURGIVISIO
Zone Mayencin II
Parc Equation - Bât A
2, avnue de vignate
38610 GIERES - FRANCE
Date of creation : 2009
Director
Laurence VAN BEEK
+33 (0)4 76 54 95 31
By clicking on "Subscribe", You agree to receive the MEDICALPS newsletter and offers every month.
You can easily unsubscribe at any time via the unsubscribe link in each of our emails.
MEDICALPS
5, avenue du Grand Sablon
38700 La Tronche
France
Tel. +33 (0)4 76 54 95 63