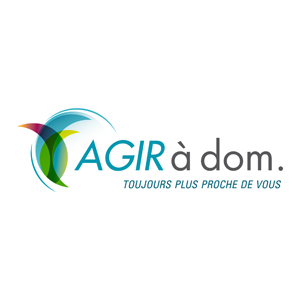 AGIR à dom  is the first associative health care company, supporting patients with chronic disease.
"From research to innovation of care, AGIR à dom assists patients suffering from a chronic disease at home."
AGIR à dom  has an expertise of over 40 years in chronic diseases and has very strong human values.
We know perfectly chronic respiratory diseases and their treatment (Continuous Positive Airway Pressure, Oxygen, Non-Invasive Ventilation), perfusion, artificial nutrition, diabetes, Parkinson's disease.
We follow more than 30 000 patients in the southern half of France, with more than 360 employees, all experts in their field of expertise.
1/3 of the teams consists of paramedics, and we also have key opinion leaders, pharmacists, physiotherapists, educators of adapted physical activity, dieticians, social worker, clinical research associate, statisticians, phDs…
Moreover, AGIR à dom integrates research and development through its
IC@dom subsidiary, private structure operating as a research center with the capacity to perform clinical research in the patient's living environment.
AGIR à dom also includes a research and development department focused on the evaluation and improvement of its businesses.
AGIR A DOM
36 chemin du vieux chêne
38240 Meylan - FRANCE
Date of creation : 1974
Number of employees : 450
Chairman
Philippe ROUSSEL
Contact
Sandra DUVIC
+33 (0)6 69 04 06 99
Subscribe to receive the newsletter
By clicking on "Subscribe", You agree to receive the MEDICALPS newsletter and offers every month.
You can easily unsubscribe at any time via the unsubscribe link in each of our emails.
MEDICALPS
5, avenue du Grand Sablon
38700 La Tronche
France
Tel. +33 (0)4 76 54 95 63