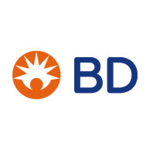 BD is one of the largest global medical technology companies in the world and is advancing the world of health by improving medical discovery, diagnostics and the delivery of care. The company develops innovative technology, services and solutions that help advance both clinical therapy for patients and clinical process for health care providers.
BD has 65,000 employees and a presence in every country around the world to address some of the most challenging global health issues. BD helps customers enhance outcomes, lower costs, increase efficiencies, improve safety and expand access to health care. BD in France has 2 000 employees.
BD FRANCE
11 rue Aristide Bergès
ZI des Iles - BP4
38 801 Le Pont de Claix - FRANCE
Date of creation : 1950
Number of employees : 1850
Director
Nicolas CHANDELLIER
+33 (0)4 76 68 36 36
Contact
Stéphanie COMIOTTO
+33 (0)4 76 68 94 33
By clicking on "Subscribe", You agree to receive the MEDICALPS newsletter and offers every month.
You can easily unsubscribe at any time via the unsubscribe link in each of our emails.
MEDICALPS
5, avenue du Grand Sablon
38700 La Tronche
France
Tel. +33 (0)4 76 54 95 63